Wood Range Hoods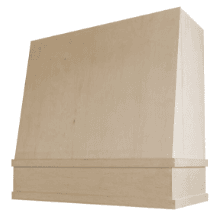 Angled
Wood Range Hoods

X

Curved
Tapered
Sloped
Box
Angled
Cabinet Showroom brings you a modern wood hood in different styles, shapes, and sizes which are sure to turn your kitchen into a style statement. Choose your preferred variety of paints and stains from the Cabinet Showroom and turn your dream kitchen into a reality. And when it comes to utility, Cabinet Showroom's wood hoods are compatible with a two-piece system installation system (apron and chimney) which eases the recommended ventilation systems.
After you've selected your cabinets, seen them in your kitchen through our digital design tool, and placed your order, the next step is picking out a range hood. Cabinet Showroom has an extensive collection of range hoods to fit any style of kitchen, and several colors and stains to choose from to match any cabinet. We guarantee picking a range hood with us will be both easy and enjoyable
The Types of Range Hoods Available
No matter what kind of kitchen hood you're looking for, Cabinet Showroom have you covered. The hood styles you can choose from are curved, tapered, sloped, box, angled, and unfinished square. From here you can choose if you want any strapping or shiplap, just for a little extra decoration. Curved, tapered, and sloped can have wood, brass, or steel strapping, and tapered and box can have shiplap. Feel free to explore all the possible options for your kitchen. Each range hood is the same great quality, so it all comes down to what you think will work the best. Whether you're looking for something classic or a sleek, modern look, you'll find something that matches your style exactly.
Why Our Range Hoods Are Great
Our hoods are the same quality as our cabinets. Made with cabinet grade veneer plywood, they are compatible with a two-piece installation system. Each unit is a two-piece unit, including an apron/back and chimney, has a standard interior depth of 18", and is made with veneer plywood and solid hardwood maple. The hoods ship separately from your cabinets but can be made to match them thanks to the options available for them.
Why Buy Range Hoods from Cabinet Showroom
When you buy from Cabinet Showroom, you're buying a quality product for your home. Our cabinets and range hoods are made with quality materials, are cost-effective, and can be made to fit any style of kitchen. In addition to offering quality products, Cabinet Showroom is happy to offer quality customer service. You can call us with design questions, price questions, or for help with cabinet assembly. Check out our selection and find the perfect final piece for your kitchen today!